Overview
Whether you are a beginner at gym or an expert who does rowing at a professional level, there is one rowing machine that will certainly be liked by all. That is concept 2 model D rowing machine with PM 5 monitor. The machine is very much capable of giving you a smooth and effective workout for your whole body.  We will cover all the aspects of this rowing machine so that you are able to make an informed decision about its suitability for your home.
The flywheel design of concept 2 rower makes sure that you get a very smooth motion without any jerks and excessive noise. The machine is designed in such a way that it is very easy to store when not in use. The ergonomic design is very comfortable to use and provides a very neutral and natural arm position when rowing.
Build Quality of concept 2 rower
Concept 2 is a well-known brand known for its quality products so you can really be assured of the quality and durability of the product. The fitness equipment is built to last and you can easily use it for a couple of years without any problem at all.  The rower is built for commercial grade which means it can also be used in commercial gyms which speaks of its quality and durability.
Some users have been using for more than 10 years and find no issues with the machine. Actually there are no plastic parts and it is all made up of aluminum and stainless steel.
Flexible Workouts
The rower gives you the flexibility for a full body workout. You can always adapt you movements to work on the body parts you want.
Resistance type
Concept 2 model d is based on air resistance technology. Air resistance is a type of technique which is used in rowing machines where the resistance to a user is provided by air. As you pull the handle, a flywheel spins which creates friction and resistance.
When you pull the handle faster, it moves the flywheel faster which means more resistance for the user. The harder you work out, the more resistance you will have. Even water resistance works in the same way.  This kind of movement is commonly known as variable resistance.
There is no inconsistency in the movement or resistance anywhere so you get a really smooth movement throughout.
This makes it really easy for all kinds of users to have as much intensity as they want for their workouts. So a young man of 20 can use it with a much higher intensity than a 50 year old woman.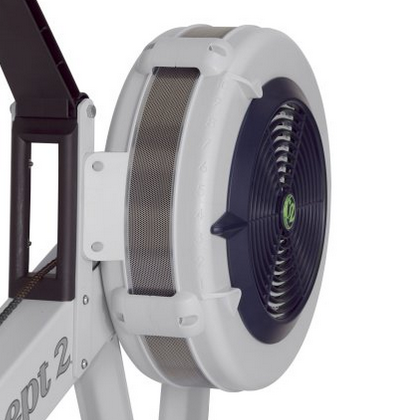 This kind of a variable resistance makes concept 2 a good machine for your entire family, everyone can benefit from it. The system is so effective that it is used by professional athletes as well.
There are damper settings which can be used to increase the amount of resistance you feel which is actually "changing the feel of stroke" instead of resistance levels. You can change damper settings from 1 to 10. The feel will get heavier as you go up the numbers (6-10). It something very similar to rowing on a slow and heavy boat.
PM5 Monitor
Concept 2 rowers come with PM5 (Performance Monitor 5) monitor which gives you all the important metrics you need to measure for improvements with your workouts.
The monitor tracks data like distance, speed, strokes per minute, time, calories, watts. You get actual readings as well as averages for this data. All this data is presented on the monitor with backlit display which is easy to read with clean fonts and layout.

You can also monitor your heart rate with a chest strap heart rate attachment, the data will be displayed on your PM5 monitor. If you want to target heart rate, this can help you do just that. PM5 will help you in easy reading of bar graphs and stores all the data for you.
The monitor can also be connected to USB drive and PCs. This is especially helpful if you are using more than one machine and want to sync all the data at one place. You can even connect it to your pc to use the data for third party applications like RowPro
All this ensures that you are able to measure every aspect of your workout and train accordingly. You can improve upon anything which you can track effectively.
PM5 monitor is attached to an adjustable arm so you can move it up and down as per your convenience. Model D also comes with power generation feature which powers your monitor when you are using the machine. This helps in enhancing battery life.  In short, PM5 monitor has the following features
Automatic operations monitor which turns on when you start your workout
User friendly menu with preset workouts, multiple languages and games
Performance data track – Metrics like distance, speed, pace, calories burned and watts are tracked for you
Multiple display options – All data, force curve, pace boat, bar chart etc
Back lit display
USB flash storage
Wireless heart rate monitoring
Connectivity supports via Bluetooth to computers and smartphones
Noise levels
Some people do say that it can get a bit noisy. This is because of air resistance technology. As air goes faster and harder into fans of the machine, it will produce more noise, this is how it works. But noise never gets too loud.
Infact, a lot of users like this noise as it gives a feeling of getting an intense workout which is motivating. Nobody says engine sound of a supercar is noisy because it gives a feeling of power.
Seat, Handle and footrests
Model D has a very comfortable contoured and padded seat which can be used by most of the users. Sometimes you may need to adjust it a little bit. Some users may find it to be a bit hard when used over a long period of time. You can easily use some kind of a cushioning or a removable seat pad to counter this.
The handle of this rowing machine is very well designed for maximum comfort. This ergonomically designed handle is covered with nice rubber grips. Some users who are new to rowing may find the handle bit hard and get a few blisters from intense workouts.
This is very normal, whenever you are pulling or pushing something with a tight grip. People who are used to gripping things will not have any issues with it. With time such power grips will only benefit you by strengthening your hand muscles.
You can always wear gloves to avoid any such discomfort
Talking about footrests, they are comfortable enough for all users. You can even use these footrests barefoot.
Installation and assembling
When you install the rowing machine for the first time, you can have small issues like adjustments and alignments of parts but all this can be fixed very easily.
Concept 2 rowing machine is very easy to assemble, it requires only 8 screws and washers and all you need is a wrench to put it together. You can put it together is about 10-30 minutes.
Here is a short video explaining the installation
Storing your rowing machine
Now this is also an important aspect to consider for some people. The rower has a large footprint especially for a small size apartment. But if you want to store the machine, the footprint is reduced to half the size.
To fold it up, you just have to separate the flywheel from monorail. Then make monorail stand up and rest the flywheel part on its head. Simple.
All it takes is a few seconds to fold it up and unfold it.
There is another way to store the rowing machine, which is to make it stand upright with taking it apart. This way it will occupy even less space but then it will have some height to take care of.
Two caster wheels make it easy to move around when needed.
Dimensions
Here are the dimensions or measurements of the product
Overall Length: 96 in (244 cm)

Width: 24 in (61 cm)

Seat height:14 in (36 cm)

Monorail Length: 54 in (137 cm), fits inseams up to 38″

Chain: Nickel-plated steel chain

Maximum User Weight: 500 lb (227 kg)

Space Requirements (in use): Assembled: 8 ft x 2 ft (244 cm x 61 cm)
User capacity
This rower has a user capacity of 500 pounds, as per the instruction manual, which is a lot. For most users this can easily withstand the weight. When it comes to height the machine can be used by children as well as tall users alike without any problems at all.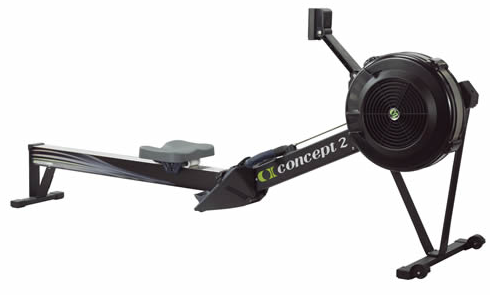 Warranty
2 year limited warranty on all parts
5 year limited warranty on frame
Our verdict of concept 2 model D
Concept 2 model D is a very capable rowing machine which can be used by all the members of a family. This is a well-made durable machine which will serve you for years without any issues. If you are looking for a good rower, this is always a very good option. The only aspects you need to consider are the space and price. If you don't have issues with these two, go for it.