If you are looking forward to get a rowing machine for yourself, there are many good choices in the market. Stamina air rower is one of the best choices you can have for a rowing machine. The best part of this machine is that it is very capable of giving you a full body workout and does nt cost as much as a concept 2 rower or a waterrower.
This is a machine with a smooth rowing motion and easy to use or store. This makes it a good rower for home use. The rower is quite capable of giving you a full body workout and does nt cost as much as a concept 2 rowing machine or a Waterrower. If you want a good capable rower at less than half the price of a high end rower, this is a good choice.
We will get into more details about this machine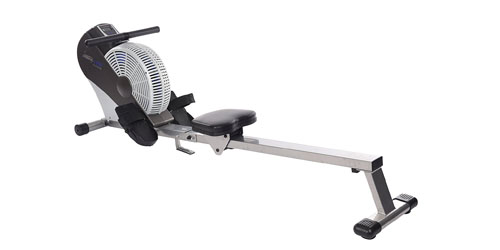 Features of Stamina ATS Air Rower 1399
Designed to offer a smooth, solid, and comfortable rowing workout
Wind for rowing resistance
Resistance intuitively–the harder and faster the user rows, the greater the resistance will be
Includes built-in multi-function monitor – displays distance, calories burned, speed, and time
Large footplates and adjustable nylon foot straps accommodate any size of user
Monitor time, speed, distance and calories
Fully padded seat for extra comfort
Nylon rowing strap for extra durability
Solid steel frame construction
Can be folded away when not being used
Includes transport wheels
Accommodates users up to 250 lbs
3-year warranty on frame, 90-day warranty on parts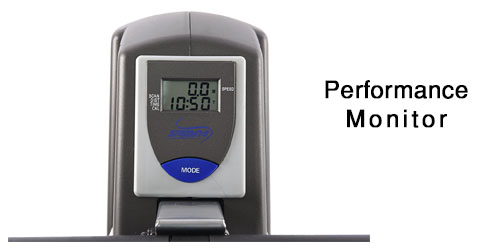 Weight and dimensions
The rower is not heavy or bulky with a weight of just 55 lbs. Its dimensions are 77 (L) x 18 (W) x 22 (H) when fully assembled, and 48 (L) x 18 (W) x 28 (H) when folded up.
Resistance type
This is an air resistance rowing machine. There are many different types of rowing machines available with different resistance types. Air rowers have flywheel which provides a resistance to the user against the air. The harder and faster you row, the more wind you generate and more resistance you will have. There is no special lever or knob which you will have to adjust.
The resistance provided by the machine is very smooth. This kind of variable resistance can be very helpful in some forms of training like HIITs and crossfit.  It does not have any damper settings like the ones present in some high end rowers. You will have to control the resistance by the speed of your rowing.
The machine also has an inclined seat which is 9″ high at the lowest level and 12″ high at the highest point
Is this rowing machine good for you?
This is value for money rowing machine which uses air resistance system which responds well to your strokes. You can increase the intensity of your strokes to increase resistance and vice-versa.  This means that you can change the intensity of your work outs according to your requirements.
The rower is easy to assemble and you can easily do it at home
Other important aspects such as compact size, smooth movement, padded seat, performance monitor etc make this machine a perfect match for you, especially if you want something for your home and can not spend too much on a rower.
However, if you are looking for something more like workout programs then you will have to look for something else, although that is not something which you will miss. You can easily monitor your workouts with the performance monitor.
You may also feel that the machine is a bit noisy. This is due to the fact that it uses air resistance. Air flows can get a bit noisy.