If you want to buy a rowing machine for your home use, here is a guide you should be reading before making any decision. I am sure this will help you in making your choice.
Rowing workouts – Are you comfortable with rowing
The first question you have to answer when you think of getting a rowing machine for yourself is whether you have done rowing before and are you comfortable with it. A lot of people who are beginning with rowing exercises do not know the exercise and don't know what to expect. So they get the machine and don't use it. If you lose interest in your exercises, it will be a waste of your money and space at your home.
Know the exercise before getting a machine
If you are looking to buy any fitness equipment, make sure that you know what you are getting and you will be using it with consistency. Consistency is what will give you results.
That said, rowing machines are one of the best fitness equipment you can have and they can give you complete workouts. Anyone in the family can use them without any issues. If you are looking for something which every member of your family can use daily, this can be the one.
Types of rowing machine
There are different types of rowing machines available in the market today.
1. Motion type
When we differentiate the machine on the basis of type of motion, they can be put into three broad categories.
First one is where foot stretcher and flywheel are fixed and only seat slides on the rail. This is the most common of them all and is also known as "Fixed head ergometer"
In the second option, both foot stretcher and seat slide on a rail. This is very much like boat moving at a steady pace in water, these rowers are also known as "Floating head ergometer"
The third option has a fixed seat with only the foot stretcher moving
2. Damper or resistance type
These are differentiated on the basis of their resistance mechanisms. Each one of them will perform a bit different than others. So you need to know the basic difference between them to know what will suit you best.
Air Resistance Rowers
These rowing machines use the resistance power of air created by a flywheel. Flywheel has fan with large blades to provide enough resistance to the user. This makes this machine a bit noisy but you get a really smooth full range of motion.  As you row harder and faster, it results in more resistance. Some of the models will allow the adjustment of resistance levels which make them very user friendly.
They are also easier to maintain but can be large and expensive. Some of the best and professional rowing machines like concept 2 and Stamina Rower use this technology.
Water Rower
Water rowers are also very popular rowing machines as they give you a very realistic simulation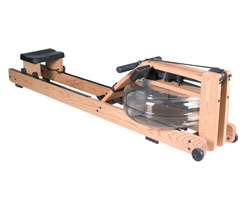 of rowing in water. In this machine, drag or resistance is created by forcing the rotating blades of the flywheel to move against the water contained in an enclosed tank.  Resistance levels can be adjusted by adding or removing water from the tank which makes it a little less convenient. I will take the example of one of the best water rowers available – Waterrower
These rowers requires some good space and are heavy in weight.  Some people find the noise of blades cutting through water really good as it resembles real rowing action. But overall this machine is not noisy, as the air rowers are, its just sound of blades against the water.  The machine does nt have a mechanical
feel as in other rowers which makes your workouts more enjoyable.

Magnetic Rower
As the name suggests, in this type of rowing machine, the resistance is produced by electromagnets which are in close proximity to the flywheel. You can change the resistance levels. Generally, these rowers are quiet and smooth in motion
Hydraulic Rowers
In this type of rowing machine, hydraulic pistons are used to create the resistance. Two hydraul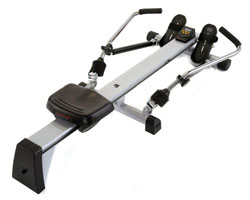 ic pistons are attached to the rowing arms. Again the resistance can be adjusted by changing the settings. They are cheapest rowers out there which makes them most common as well. They are smaller as well.
Storage – Space consideration
Another consideration which you have to think about is the size and weight of the product. Can you accommodate a big and heavy machine at your place or do you have a limited space. Some people do have space considerations so they have to stay away from bigger machines like water rower.
Size of the machine is also to be considered if you are a tall person. Hydraulic models and some magnetic ones are shorter so you have to make sure that the machine is comfortable for you. Water rower and air rower are best suited to all body types.
Computers and monitors
Depending on the model of your rowing machine, some of them will have consoles for monitors and display and some wont have it. Generally, hydraulic ones will not have any consoles. Without the monitors, it becomes a bit difficult to track your progress.  A good console will provide you with all the metrics which you need to know. Some of the important metrics are elapsed time, number of strokes taken, strokes per minute, speed and distance rowed. Some will also give you the number of calories burnt in a session.
Warranty
Warranty is also an important consideration while buying a rowing machine but it largely depends on the manufacturer and model you choose so it can differ from model to model. It can range from 3 – 5 years to life time warranties.
This is a buyers guide you can refer to. Always remember that any fitness equipment you buy is an investment in your health and fitness. If you dont enjoy your workouts, there is no point in getting something which will just occupy the space at your home. Get a machine which gives you the workouts you can enjoy daily.